A gentle formulation designed to protect and provide special care for the delicate eye contour area.
Features and Benefits:
Premium vegetable oils and waxes enrich and soften the skin around the eyes.
Rich in moisturizing agents such as hyaluronic acid, and excellent for all skin types.
Retinol and vitamin E enrich the delicate eye area which is naturally lacking in sebum glands and protects against the harmful effects of free radicals. Albizia Julibrissin bark extract combats fragile microvascular network while reducing capillary leakages. It exerts a lifting effect on the upper eyelid, reduces crow's feet, fades away dark circles and diminishes puffiness.
Darutoside extracted from Siegesbeckia Orientalis is recommended for its regenerating, anti-inflammatory activity, used to minimize the appearance of fine lines.
Directions:
Warnings:
Ingredients:
Reviews:
Other products that may interest you: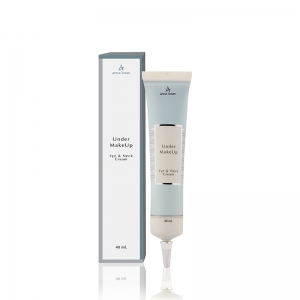 Under MakeUp Eye & Neck Cream