Sensitive Combination Skin

A daytime protective moisturizer especially formulated to meet the needs of delicate, oily and combination skin.
Features and Benefits:
Enriched with effective moisturizers (xylitol derivatives, aloe vera and oat beta-glucan) it serves as a daily moisturizer while providing broad spectrum UVA/UVB protection.
The light, non-oily texture is easily absorbed by the skin leaving no greasy after-feel.
Premium antioxidants (Vitamin E, the stable ester derivative of vitamin C and carotene-rich extract of the saline water seaweed – Dunaliella Salina) support the skin's resilience against free radical damage when exposed to UV light!
Specialty additives selected for oily /problem skin types like: beehive propolis, undecylenic acid derivative and Echinacea extract improve hygienic conditions on the skins surface.
Directions:
Warnings:
Ingredients:
Reviews:
Other products that may interest you: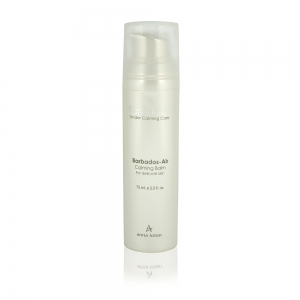 Barbados-Air Calming Balm