A refreshing facial mask incorporating pure and active, freshly dissolved vitamin C.
Features and Benefits:
Serves as an excellent salon rejuvenating mask for sun-damaged, hyper pigmented skin, as well as for all oily skin types.
Gives an immediate lightening and toning effect.
Based on a special carrier complex gel, designed to preserve the potency and benefits of the active ingredients during treatment.
This totally oil free mask provides ideal care for oily (young or mature) skin.
Directions:
Pour out the contents (25 ml.) of the Complex Gel into a flat bowl.
Add one portion of vitamin C powder and mix until fully dissolved.
Place 1 EcoMask in the bowl allowing it to absorb all the mask content
On delicate skin apply a thin layer of C White Formula before mask application.
Gently attach the mask to all facial areas (avoiding eye contact) and leave on for 10-15 minutes. A light tingling may be felt on sensitive skin. If this sensation persists, creating discomfort, rinse the mask off with water sooner.
Finally remove the EcoMask slightly wiping off the excess with moist cotton pads.
To complete the treatment apply C White Formula or Everyday Lightening Care to all facial areas.
Warnings:
•Use for designated purpose and according to directions • Do not swallow • Avoid contact with eyes • Keep out of reach of children • Do not use if sensitive to any of the ingredients
Ingredients:
Water (Aqua), Alcohol, Glycerin, Hydroxyethylcellulose, Butylene Glycol, Xanthan Gum, Cucumis Sativus (Cucumber) Fruit Extract, Lonicera Caprifolium (Honeysuckle) Extract, Centella Asiatica Extract, Sodium Citrate, Lonicera Japonica (Honeysuckle) Flower Extract, Citric Acid, Carrageenan (Chondrus Crispus), Nelumbo Nucifera Flower Extract, Aloe Barbadensis Leaf Juice Powder.
Reviews:
Other products that may interest you: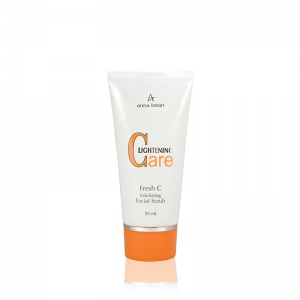 Fresh C Exfoliating Facial Scrub