Bio Toner For Face and Scalp
Sensitive Combination Skin

A calming face and scalp toner ideal for sensitive combination skin with T-zone problems. Clinically tested and found to be hypoallergenic and suitable for sensitive skin.
Features and Benefits:
Made of plant extracts with a remarkable soothing effect: honeysuckle, black cohosh (Cimicifuga Racemosa) and the juice expressed from Aloe leaves.
Formulated with more than 99% mild, renewable, natural resources, this toner is ideal for delicate skin types, serves as an optimal care for young or mature oily / combination skin.
These skin types often tend to build up dead skin cells over scalp and the T-zone, resulting in dry ashy patches combined with occasional redness.
Regular use of Barbados Bio Toner will restore the skin's smooth appearance, especially when used under Barbados Pure Balm.
Directions:
Warnings:
Ingredients:
Reviews:
Other products that may interest you: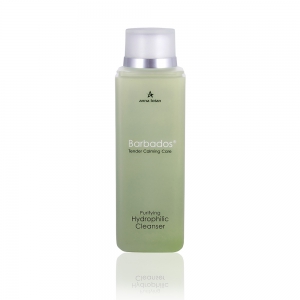 Purifying Hydrophilic Cleanser