A rich, buttery, smoothing cream formulated to improve skin texture and protect it from damaging free radicals.
Features and Benefits:
Enriched with encapsulated, naturally derived SOD (from melon seeds) – a potent antioxidant enzyme that protects against primary free radical formation.
Enhances skin's defence mechanism making it more resilient against environmental hazards.
Premium vegetable emollients immediately soften the skin texture and flexibility.
Soothing components (magnesium aspartate, zinc gluconate, tapioca starch and Lotus flower extract) support skin resilience, minimizing the appearance of redness.
Licorice root and cucumber extract enhance skin brightness.
The exclusive formula provides a skin smoothing effect, even after a single use, leaving it smooth and radiant.
Excellent for fragile skin – young or mature as an evening cream for daily use.
Directions:
Warnings:
Ingredients:
Reviews:
Other products that may interest you: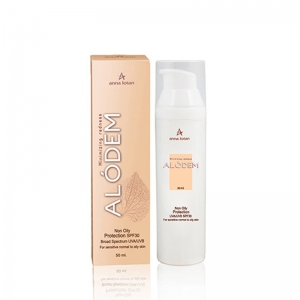 Non Oily Protection cream SPF30