Scalex Natural Exfolianing Gel
Sensitive Combination Skin

A gentle, exfoliating gel that easily softens and removes excessive oiliness and dead cell buildup from skin and scalp.
Features and Benefits:
Rich with premium oils (Olive, Jojoba, Macadamia and Noni seed oil) and soothing herbal extracts (Burdock root and Marigold) that provide optimal skin softening.
Dead Sea mineral water and natural polyols enhance skin's moisture balance leaving it clean and silky smooth after use.
SCALEX Natural Exfoliating Gel provides a thorough, natural, surface cleansing and smoothing for various skin types on a weekly basis, or when necessary.
Ideal, natural care for "cradle cap" and other similar scalp conditions when used in the bath or shower.
May also be used as a base for a mild biological facial peel for delicate, oily / combination skin.
Directions:
Gently spread a small quantity of the gel where required. Allow it to soften with body temperature for up to a minute. Use a smoothing fingertip massage to dissolve the sebum residue, in order to detach the dead cell build up. Gradually add water with your fingertips. The gel does not foam, but becomes a milky emulsion that is easily rinsed off. To use as a mild facial peel for delicate oily/combination skin: Apply a thin layer of Scalex and leave on as a mask for 1-2 minutes. Use soft massage movements to smooth over required areas. Add a layer of Aloe Pure Gel incorporating it into the massage until a rich creamy emulsion is formed. Remove with moist tissues or rinse off.
Warnings:
• Use for designated purpose and according to directions • Do not Swallow • Avoid eye contact • Keep out of reach of children • Do not use if sensitive to any of the ingredients
Ingredients:
Caprylic/Capric Triglyceride, Glycerin, Polyglyceryl-5 Oleate, Simmondsia Chinensis (Jojoba) Seed Oil, Olea Europaea (Olive) Fruit Oil, Water (Aqua), Macadamia Ternifolia Seed Oil , Calendula Officinalis Flower Extract , Sea Water (Maris Aqua), Squalane, Tocopherol , Hydrogenated Palm Glycerides Citrate, Phenethyl Alcohol.
Reviews:
Other products that may interest you: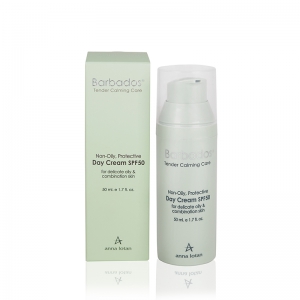 Non-Oily Day Cream SPF 50