An activating powder used to prepare a fresh soothing mask for application after deep pore cleansing and for calming skin redness.
Features and Benefits:
Made from sustainable ingredients.
No colours or preservatives.
Diminishes skin redness within minutes.
Ideal for oily (blemished) or combination skin with T zone problems.
Directions:
Mix half a teaspoonful of Azovit (around 2 grams) with a teaspoonful
Barbados Moisturizer until it becomes an even paste. Apply this onto the skin and leave for 10 to 15 minutes. Remove with a damp wipes or moist cotton-wool, rinse with water and dry with a soft towel.
In the summer, you may apply a Seaweed Peel-Off Mask (algae-based) on top of the Azovit mask to cool and calm the skin further. The two masks will come off together very easily, afterwards.
Warnings:
• External use only • Use for designated purpose and according to directions • Avoid contact with eyes •Keep out of reach of children • Discontinue use if rash or irritation occurs •Do not use on broken skin
Ingredients:
Corn (Zea Mays) Starch, Talc, Usena Barbata (Lichen) Extract, Zinc Oxide.
Reviews:
Other products that may interest you: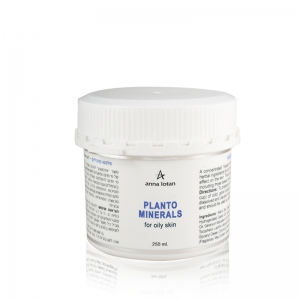 Planto Minerals for Oily Skin